I had quite the adventure when heading out to shop for the Lanvin x H&M collection. Many thanks to my boyfriend for coming along and keeping me sane among all the madness! We woke up at 5:30am and headed for the H&M on 5th Ave. and 51st. When we arrived the line was a bit long...did a count and we were around 120 in line. Some people had been there since 8pm the night before! There were air mattresses' blown up, people sleeping in sleeping bags and quite a few lawn chairs strewn about 5th Ave. Soon enough the sun started to rise and more and more people were joining the line.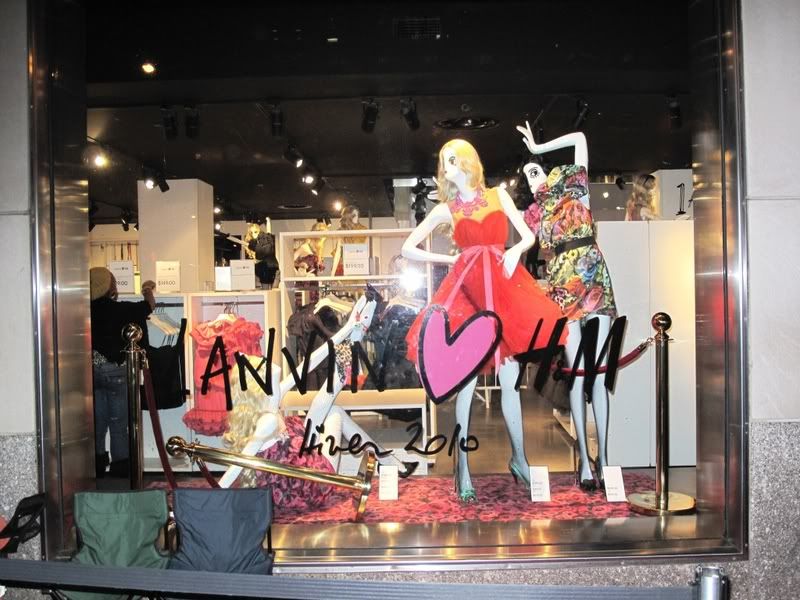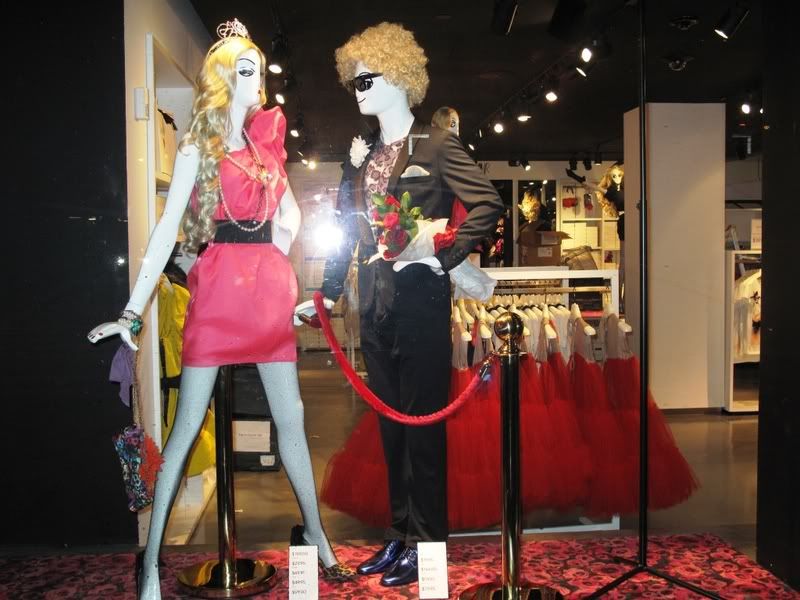 Windows and a peek at the Lanvin x H&M before the shopping begins.
H&M was kind enough to come around with coffee and croissants while we waited. Around 7am they started to hand out the wristbands and we all had to play by these rules. The first 320 people were getting broken into groups of 20 and each was assigned a 15 min. time slot to shop the women's collection. We got the 10:40am time slot but wanted to wait for the doors to open at 8am since the men's section was a free for all (no wristbands needed).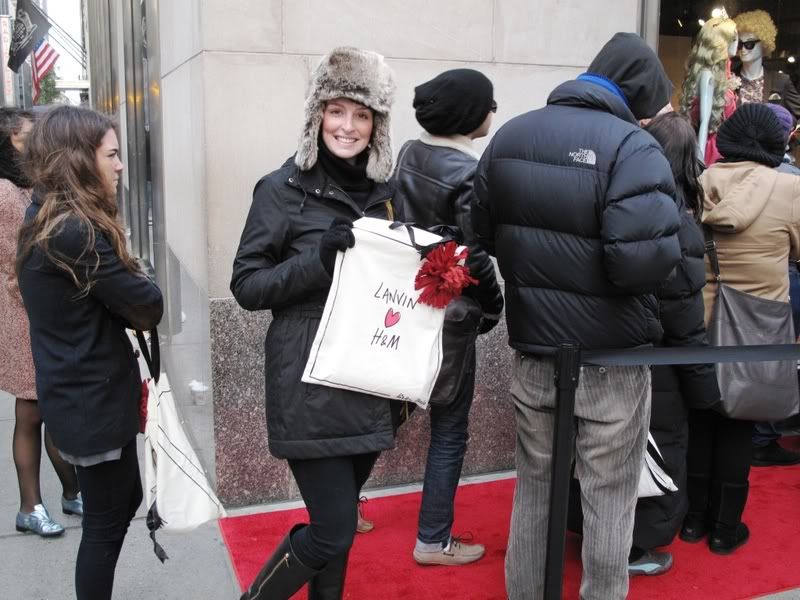 They passed out "thank you for waiting" tote bags with a scarf inside.
When the doors finally opened people were running up to the 2nd floor and it was pure madness! Shirts flying, shoes being thrown, mannequins being held down my brave H&M employees... It was crazy! I wanted to head to the men's section in search of the fabulous sunglasses but everyone else had my same idea and in the few moments it took me to get from door to the second floor they were gone, gone, gone, gone. I seriously sank into a depression. It was my number one item and all that was left were empty boxes...

So off we went wandering around the store to check out the madness going on in the women's Lanvin section, people were grabbing everything and I was losing hope that anything would be left by the time I made it in. All the while I'm still stalking mannequins, windows and sales associates in search of a possible pair of sunnies. My boyfriend kept telling me to have hope and be patient, I'll be honest I really have no patience in times like these...but I decided that it just wasn't meant to be and I needed to move on (I know I sound craaazzzyyy).

Around 8:45am the dj made an announcement for anyone with wristbands to head to the designer area, we booked it and they were letting anyone with the wristbands in! OMG the fashion gods were watching over me! I was in and running around like a mad woman by 9am! We split up, I went for dresses and Steve went for the accessories I had my eye on. While checking sizes of a skirt out of the corner of my eye I see my new bff with some sunnies,
I ask "are those the sunglasses?!"
she replies "why yes they are"
me "ahhhh I love you, I love you!"
It was fate I got the sunnies! Then Steve spots her with another pair and this is where things get a little ugly. She goes to hand him a pair (she has 2 in her hands) and this woman came from nowhere and is yelling "I need 2, pleeaaaseeee." I froze by the confrontation and Steve just grabbed his pair and left her with one. I'll be honest she looked like she was taking those straight to Ebay, so I'm glad we gave them a good home. We rocked the sunnies as soon as we hit the streets of NYC today, ha!
I hit the dressing rooms with an armful of Lanvin goods and left with what I call a Victory!

It was crazy, fun and makes for some good memories.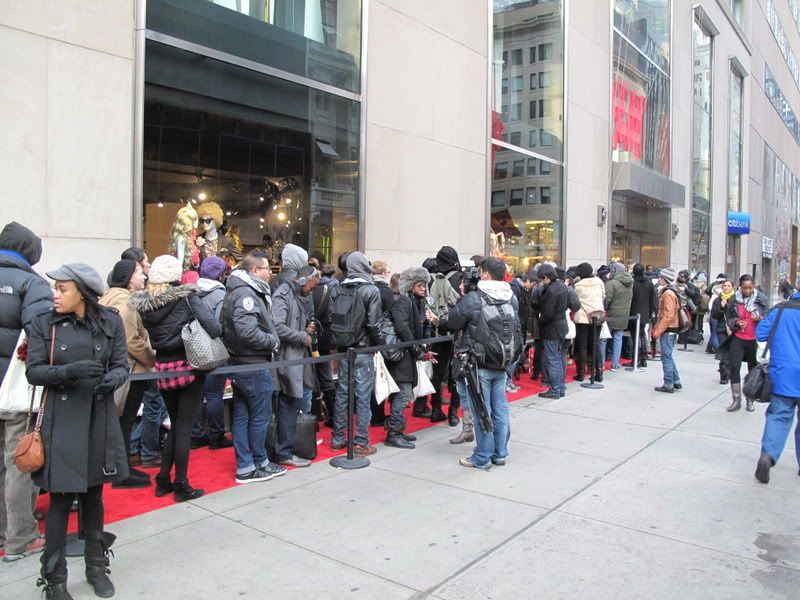 The crowd waiting for the doors to open.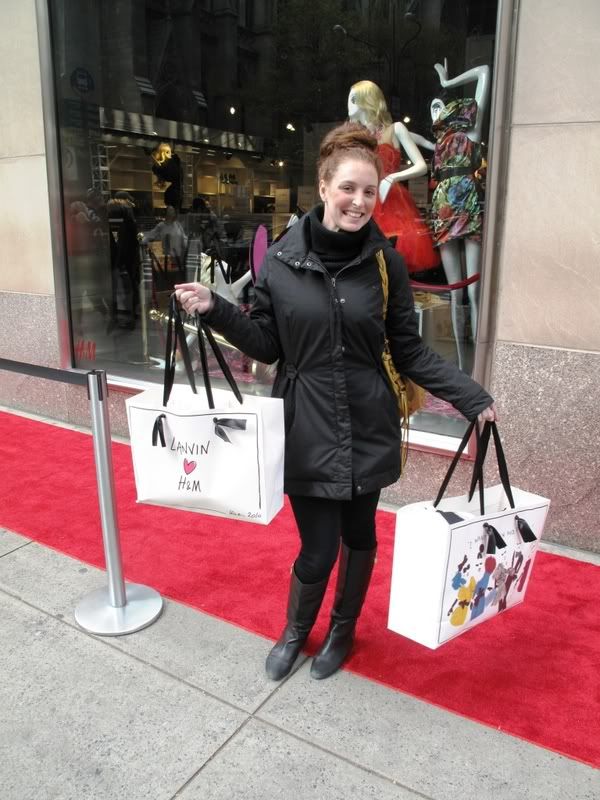 Me & my Lanvin goodies! Can't you tell how excited I am?
What I bought post, coming soon!