I just learned about this amazing jewelry line and I had to share with you it's called Taara Jewelry. It was started in 2009 by Megha Jain in Hong Kong because she was tired of the corporate world and decided to tap into her creative side so she moved to Hong Kong to revamp a company her aunt had started years ago. She wanted to give it a fresh new start and that is how Taara was born.
Each piece has been designed to be worn as a statement piece, worn by itself. Taara comes from the word "sitara" which means stars in Sanskrit and this image is reflected in many of the pieces. The look and feel of the pieces bring the wearer back to the Mughal Empire, a time in history where opulence and fantasy was felt throughout the atmosphere. Each piece resembles what kings and queens wore in Rajasthan during that time. The stones are sourced in Jaipur and Udaipur and are set in silver with an antique finish. Megha is especially inspired by Udaipur, also known as "The City of Lakes." The many lakes found around Udaipur reflect all the beautiful palaces and buildings that encompass the city and the bright colors against the water are stunning. Lake Pichola is one of her favorite lakes as the combination of the blue lake and the white buildings is ethereal. This image of reflection can be seen in many of her pieces, especially the ones with glass and mirror work.
Some of the great pieces from Taara. There are earrings, rings, bracelets and necklaces, the prices start at $50 and up.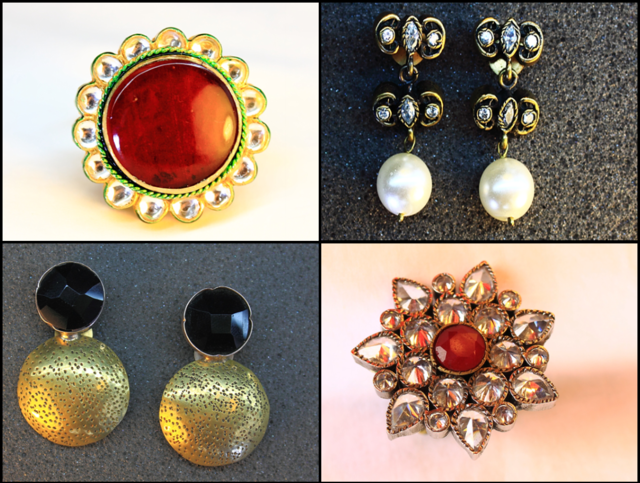 Top Left:
Antique Garnet Ring
- $80.00 - Taara
Top Right:
Crystal & Pearl Earrings
- $50.00 - Taara
Bottom Left:
Gold & Black Onyx Earrings
- $50.00 - Taara (these are my absolute favorite!)
Bottom Right:
Ring with Crystals & Garnet
- $50 - Taara
To place an order online, fill out this
form
!
Be sure to mention Style Me Cheaply for 10% off your order!